Covid-19 has brought many difficulties and hardships to both traditional and e-commerce businesses in 2020. No one thought that it would take so long for all of us to keep on getting affected by the virus. As a result, traditional businesses started to keep their sales going by shifting to online platforms. In addition, e-commerce businesses have come to the realization that the market has a tough competitive environment.
As the nature of human beings necessitates them to adapt to new situations and find ways to survive and satisfy their needs, the digital world will keep on affecting the routine lives of people even after the pandemic. As a result, regardless of how 2021 will be, digital marketing will keep on ruling.

How Has Online Shopping Been Popular in 2020?
According to statistics, online shopping faced a growth of
77%
in May 2020. Well, online shopping has already been used but it was never as popular as it is today. People nowadays have got used to online shopping even those who were so reluctant to do this before the emergence of Covid-19.
As for compliance with the new regulations against Covid-19, people have chosen to buy what they need online. They have realized that online shopping has a lot of advantages over physical shopping. First of all, it is safer with regard to the virus. It also offers quite a lot of products at different prices. Moreover, promotions and discounts make shopping more budget-friendly. There is also no doubt that online shopping is more convenient and more time-saving than physical shopping.


As a result, businesses have become more reliant on selling online rather than in-store. Therefore, learning how you can save your online sales in the competitive digital market can help you remain in the market and grow your revenues to a great extent in 2021.
How Have Online Academic Events Been Trendy in 2020?
Students, researchers, learners, business persons, and all those who used to take part in classes and events have resorted to
online webinar platforms
such as Zoom, Google Meet, Skype, etc. to continue their participation. Sitting at home, grabbing a coffee to drink, and taking part in online classes and events while having pajamas on is much comfortable to sit still in the real environment. Therefore, online classes,
webinars
, virtual conferences, social meetings, live sessions, etc. have become so popular these days.
There are, however, several reasons to mention to justify the popularity of
digital education
and online events. First of all, it has been practically impossible to take part in-presence due to lockdowns. However, it has been proven that organizing online classes and events are much cheaper in comparison to the real indoor or outdoor ones. In addition, they are more time-efficient, easier to participate in, and widely accessible from any region.
How to Boost Digital Marketing for eCommerce in 2021?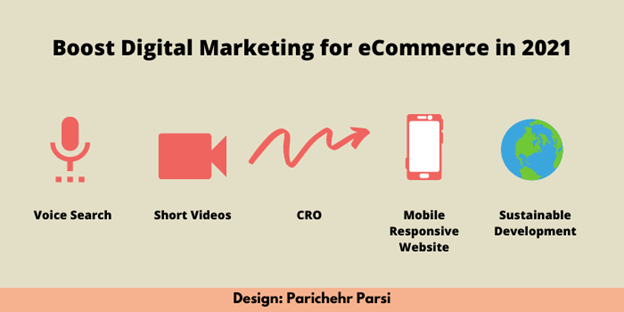 1. Voice Search Is Getting More Popular
Though many people think that voice search can never take the place of manual search, voice search is getting more popular these days. The mechanism of voice search is quite straightforward: users search for what they are looking for by talking to the search assistants such as Google Assistant, Siri, Cortana, Alexa, etc.
Voice search does not require users to say the location as it automatically searches for the products or services that are nearby. In traditional manual search, however, they have to type the location they are in if they want to see if they can find what they want in their vicinity. For instance, if someone searches for pipe tobacco shops, they can see where they can buy pipe tobacco near them.
Due to the growth in using voice search, it is remarkably efficient for your e-commerce business to consider voice search in your digital marketing strategies.
2. Short Videos Are More Effective
These decades have made us more intolerant and less patient in general. We are too preoccupied with so many issues that we cannot devote time to watching a long advertising or entertaining video. Or, we have the time to devote but a long video seems so absurd to us that we rather skip it as soon as possible. Or perhaps, being exposed to so many images and concepts prevents us from getting excited by watching a video unless it is highly creative.
Why Tik Tok has become so popular is now quite comprehensible. Tik Tok is a social media platform that allows its users to share short videos and has got a significantly large audience regarding the limited time it has been launched.
As an e-commerce business owner or a marketer, you should know that all your efforts and spendings can lead to failure if you do not consider the general mood of your audience. Knowing that a short video can get more views as well as being more budget-friendly can give you much better results.
Regardless of the type and subject of your video, you should keep them as short as possible and about less than 2 to 3 minutes. Your videos can be entertaining, informative, educational, promotional, advertising, etc. Work on your content and do your best to attract and engage your audience within a short amount of time.
3. Conversion Rate Optimization (CRO) Is Essential
3. Conversion Rate Optimization (CRO) Is Essential
To turn your generated leads into customers might be the most challenging yet fundamental fact about marketing. Encouraging your generated leads to complete the journey in your website and purchase from you is not an easy task. It needs much effort, intelligence, and strategies as well as Conversion rate Optimization (CRO) knowledge.
Conversion rate shows the ratio between the total number of your website visitors and the total number of purchases. Learning how to optimize conversion rates can help you better convert your prospects. In other words, the traffic that visits your website would buy from you in the end if you know how to plan your conversion funnel.
There are many online platforms in the digital world that have different features and different audiences. Such diversity leads you to take CRO into account and mix it with creative and catchy ideas so that your leads can easily differentiate between you and others and become your customer confidently.
Remember to check the howness of your customers' or leads' online behavior by measuring the number of clicks, the amount of time spent on a page, bounce rates, etc. Analyzing such metrics help you understand if you are doing the right job regarding conversion rate optimization.
If you are using social media to generate leads to your website or directly sell there like for instance via Instagram Shopping, you can check the analytics of these media as well. You should constantly see if you are adopting the right strategies to stay in the market and increase your revenues.
If you do not have as many audiences as you need on social media, you can try the apps and tools that enable you to increase your audience. For instance, you can use Instagram follower apps to grow your Instagram followers organically.
4. Sustainable Development is a Social Responsibility for All
4. Sustainable Development is a Social Responsibility for All
Sustainable development has become a serious part of everyone's social responsibility. To enhance people's lives and to protect the environment requires a strong move. As e-commerce, you can devote a part of your revenues to fulfill sustainable development goals. You can add a section on your website and inform others about this. It will encourage people to buy from you and take part in your world-constructive plans.
Conclusion
Conclusion
Due to the popularity of online shopping and e-commerce businesses in the past year, it can be said that the next year there will be a demanding competitive market in the digital world. The reason is that people have realized the advantages and they cannot go back to the previous buying methods. As a result, you should enhance your digital marketing strategies and grow your audience if you want to survive in the digital world. Wish you the best of luck!


I am Parichehr Parsi, a born writer, and a freelance copywriter in the fields of travel, fashion, and Instagram marketing. I currently write for Realtormate and online magazines in Italy and I love reading, writing, and researching. Find me on LinkedIn!